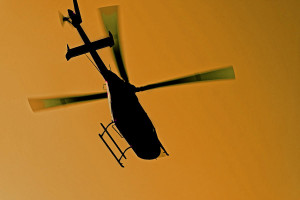 EDIT:  The website described below is currently out of service due to the FAA defunding. SoCal Rotors is actively working on alternate funding sources.
The L.A. Helicopter Noise Initiative And How You Can Be Involved
The Southern California Rotorcraft Association ("SoCal Rotors"), including our pilot members, operators and agencies, are all concerned with the disturbance caused by helicopter noise. The National Airspace System ("NAS") has become Target Number One for those seeking to find relief from helicopter noise in our communities. However, it must be understood that the airspace in use today has come about through decades of study, scrutiny and participation from the public and aviation community. Safety of flight in a very complex three-dimensional airspace is paramount to all of us.
We are working very hard to address specific issues that may arise, as we understand that the aviation landscape continually changes and we need to change with it. We welcome input from the public and consider it vital to our ability to assess necessary changes and put them into action.
SoCal Rotors meets regularly with local community groups and homeowner organizations (over sixty such meetings in the past two years). We have representatives from the public safety sector who advise us on what is possible from their perspective. Commercial operators, including utility companies, are solicited frequently for solutions. And finally, we work closely with the Federal Aviation Administration ("FAA") to ensure that any proposed changes will not cause a ripple effect that ultimately diminishes safety for airliners and the substantial fixed wing traffic in the greater Los Angeles area.
SoCal Rotors is proud to announce that we have collaborated with the FAA in the creation of the LA Helicopter Noise Initiative web site. 
L.A. Helicopter Noise Initiative Web Site
The focus of this initiative is to collect specific information related to situations and concerns experienced by the public, consolidate this information into SoCal Rotors HotSpots that define geographical areas that need further attention, and generally operate from a basis of fact in determining where changes may be necessary, possible and feasible.
SoCal Rotors Board members attend monthly meetings with the FAA and other stakeholders in order to stay up to date on the latest noise trends in the region. SoCal Rotors disseminates this updated information to our members using our public events and our Main Rotor newsletter.
We strongly recommend that you support this process if you feel that you have experienced unnecessary noise, or if you have noticed a positive change. You may participate in this process by going to the site and registering your concern or observation. A phone option is available, although we recommend the website option as it offers greater detail in filing your comments.
There are many factors related to noise from aircraft (both fixed wing and helicopter) as well as a multitude of other sources of noise in the greater Los Angeles area. We understand that some of these sources are annoying and we are doing our part to carefully analyze the helicopter related noise sources and reach out to both helicopter operators and pilots to determine how changes can be made without jeopardizing the safety of the mission. We all want to be good neighbors.
The population of Southern California is growing, the demands on transportation are increasing, and that goes for airspace as well. We all need to work together to best determine how all the various homeowner interests, employer and economic interests, national and international airline interests, and, above all, safety interests can best be served. We welcome your input and hope that you will utilize the new LA Helicopter Noise Initiative website in reporting your concerns and constructive comments.
Board of Directors
Southern California Rotorcraft Association