The Board of Directors and membership of the PHPA are devastated by the loss of our warm, wonderful and outstanding Board member, Barbara Cesar. Please see a brief outline of her life below. The memorial service is at Syncro Hangar, 2:00 p.m. Friday, November 16th, to which all are invited.
Barbara Cesar, 56
1951 – 2007
Philanthropist, Pilot, Artist, Equestrian
Co-Founder, President and CEO
Syncro Aviation, Inc. and Syncro Aircraft Interiors
Largest Woman-Owned Business in Van Nuys, CA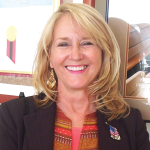 VAN NUYS, CA – Philanthropist and Aviation enthusiast Barbara Cesar, co-founder, president and CEO of Syncro Aviation, Inc. and Syncro Aircraft Interiors, the largest woman-owned business in Van Nuys, CA, died last Friday at Providence St. Joseph's Medical Center in Burbank of complications after minor surgery.
Barbara co-founded Syncro Aircraft Interiors with her late husband, Ed Cesar, in 1983 with $200 and a sewing machine, creating one-of-a-kind custom-designed interiors for planes that attracted the major leaders in the aviation and aerospace industry, as well as heads of state, A-list celebrities and other aircraft owners. Since its inception, Syncro Aircraft Interiors has been the undisputed leader in customized aircraft interior design, craftsmanship and functionality with clients that include: Clay Lacy Aviation, DreamWorks, Gulfstream Aerospace, Hawker Beechcraft, JTP Films, Millennium Air, NASCAR, Occidental Petroleum Corp., Hilton Hotels Aviation, Elite Aviation Inc., Bay Films, amongst others.
Barbara Cesar was born in Washington, DC on March 15, 1951. She was the second of four children born to John Samuel and Vera Foster. She was, from the beginning, a beautiful person. Unpretentious. Gutsy. Incredibly feminine. And adventurous. At age sixteen, she was First Runner-Up in the Falls Church High School Beauty pageant; a major accomplishment, says her sister, Jean Foster. "It was unheard of. Until Barbara won the award, no high school sophomore had ever placed higher than Fourth Runner Up."
After graduation, she attended college, and studied Art in Italy, Greece and Mexico. Then, in 1977 at Kitty Hawk, North Carolina, she took up hang gliding with a young, but extremely charming, world-savvy instructor, international hang gliding champion and pilot, Ed Cesar.
The two were rarely apart after that, and married ten years later at a pristine wilderness Monarch Butterfly sanctuary in Valle de Bravo, Mexico. The bride, groom and wedding party had to hike miles of rugged mountain logging trails to access the site – during which, the bride-to-be wore her veil and dress, covered by a thick burlap sack, although some say it resembled a donkey blanket [because, she later explained, "It is bad luck for the groom to see the bride before you marry."] As intense as it is to create and maintain a successful business that literally sets the standard for custom-designed aviation interiors, Ed and Barbara Cesar had other interests. The same year he started Syncro Aircraft Interiors, Ed Cesar came up with an idea for a movie short, entitled "Up." He piloted a glider to film the inspirational movie. In 1984, the film won an Academy Award, and both he and Barbara used to enjoy telling friends and clients that Syncro Aircraft Interiors was the only aircraft "refurb" to ever win an Oscar. Ed Cesar died on May 24, 2002, and Barbara never remarried.
Determined to continue Eddie's legacy and love of flight, Barbara Cesar partnered with Los Angeles City Councilmember Tony Cardenas to create Aviation Career Day in April 2006. The first annual event drew more than 2,000 people and scores of exhibitors to address the importance of students making informed choices about their future careers by highlighting employment opportunities in the aviation-aerospace industry.
"Ed wanted students to feel the excitement and joy of flight, and then, let their career and life paths develop from there."
At the second Aviation Career Day in April 2007, students from more than 25 high schools in the San Fernando Valley attended the event, where it was announced that Syncro Aviation, Inc. and the Economic Alliance of the San Fernando Valley were forming an Aviation-Aerospace Collaborative to partner with a local public high school, Monroe's School of Engineering and Design to educate students on career opportunities in the industry – through internship programs, business tours and other collaborations with the Monroe High School administration and faculty.
This week, the San Fernando Valley Aviation-Aerospace Collaborative (SFVAAC) is hosting its first internship program with Monroe's School of Engineering and Design students. The SFVAAC, which does not charge member dues and/or solicit funds, is the first regional Aviation-Aerospace collaborative in the nation to partner with a local public high school.
Barbara Cesar has won numerous awards for her business and civic contributions. In 2006, the San Fernando Business Journal presented her with the prestigious "Women Who Mean Business CEO of the Year" award. Additionally, she was a passionate supporter and contributor to the Boy Scouts and Girl Scouts of America, and the Learning For Life Aviation Explorer Post programs, as well as numerous local and national charities. Barbara was a licensed helicopter pilot and instrument-rated to fly planes; as such, she was an active member of the Ninety-Nines, an international organization of women pilots; and a member of the Board of Directors for the Wildlife Images Rehabilitation and Education Center in Oregon – where a building dedicated to providing for the care and treatment of sick, injured and orphaned birds of prey was named in Ed Cesar's honor.
Barbara Cesar was a long time member of the Professional Helicopter Pilots Association and was elected to the Board of Directors in 2007.
Barbara Cesar is survived by her brother, Glen Foster of Falls Church, VA; her two sisters, Jean Foster and Alexandra Foster of Tijeras, New Mexico; a niece, Lani Tyler, and two nephews, Trevor and John Tyler, also of Tijeras, New Mexico.
A brief memorial service is planned for 2:00 p. m. on Friday at the historic Syncro Hangar at Van Nuys Airport, 7701 Woodley Avenue.
November 13, 2007
Media Contact: Laurie Golden, 818.888.9337
laurie@jacobswellpr.com